The Courthouses are Open
ALL PERSONS ENTERING ANY OF THE COURTHOUSES ARE STRONGLY ENCOURAGED TO WEAR A MASK IN COMMON AREAS AND MASKS ARE REQUIRED IN OCCUPANCY RESTRICTED AREAS.
Masks are required before entering any occupancy restricted area.
Masks must remain on while in occupancy restricted areas such as courtrooms, magistrate hearing rooms, mediation rooms, Witness Management deposition rooms, Court Administration offices, jury deliberation rooms, and jury assembly rooms.
The Judges of the 15th Circuit remain available in all divisions to have your non-essential matters heard remotely Monday-Friday. Please see the judicial instructions for information on setting hearings.
Persons interested in attending a remote hearing must contact the Circuit's Public Information Officer at: 561-355-4495. See Administrative Order 12.510 for more details.
HOW to ZOOM: instructions for attorneys and litigants regarding remote hearings
Chief Judge Jury Video
Information for jurors on court procedures to insure your safety.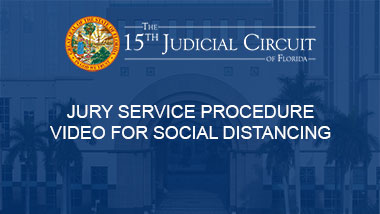 Chief Justice Canady, of the Florida Supreme Court issued Administrative Order AOSC20-2 Amendment 4, on Thursday, May 21, 2020, directing chief judges in all 20 circuits in the state to design a plan to begin a systematic return to the way court proceedings were held before the COVID-19 pandemic. To effectuate this plan, the Chief Justice outlined four phases of court operations with corresponding bench mark criteria.
As of September 9, 2020, The Fifteenth Judicial Circuit entered into Phase 2. Phase 2 expands the type of proceedings that can be held face-to-face, using protective methods such as face coverings and social distancing. Information regarding the Court's operations during Phase 2, including the specific types of proceedings that may be held face-to-face during Phase 2, are outlined in Administrative Order 12.510 (Updated January 21, 2021)
Please continue to monitor our website for further updates.
---
Persons entering the courthouses will have their temperature taken. See the Press Release below:
---
The Court is also requesting your assistance in limiting the spread of COVID-19.
Please do not come to any of the courthouses if you answer yes to any of the following questions;
Question 1: Do you have any of the following symptoms (excluding those due to a known medical reason other than COVID-19):
Cough
Shortness of breath or difficulty breathing
Fever or chills
Fatigue
Muscle or body aches
Headache
Sore throat
New loss of taste or smell
Congestion or runny nose
Nausea or vomiting
Diarrhea
Question 2: Are you currently awaiting the results of a test to determine if you have COVID-19 based on symptoms or suspected exposure?
Question 3: Are you under instructions to self-isolate or quarantine due to COVID-19?
Question 4: Within the past 14 days, have you had close contact with someone with a COVID-19 diagnosis or who is awaiting test results for COVID-19 based on symptoms or suspected exposure? (Note: Close contact is defined as contact that is less than 6 feet for 15 minutes or more, irrespective of whether a cloth face covering or respiratory PPE was worn).
If you answer YES to any of the above questions and are required to report or appear in court, you should proceed as follows: